With Tua Viso, now is the time to keep that promise you made to yourself to feel and look better this year.
During life, our face undergoes visible changes. Wrinkles appear and become more accentuated, the skin loses its normal elasticity and becomes superfluous, causing bags under the eyes, flabby cheeks and relaxation in the neck. Cosmetics can effectively moisturize and smooth the skin, but to lift the face, work must be done on the structural parts, in other words on the muscles.
Thanks to Tua Viso, electrostimulation tones up and firms the face muscles with clearly visible face surface remodelling.
Tua Viso has been developed to restore tone and a youthful look to the face, representing a major alternative for those who cannot or do not want to do surgical lifting.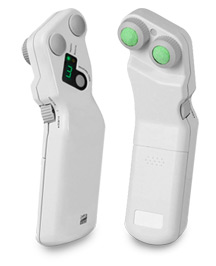 Brand new Tua Viso Face Firming Device for Wrinkle Reduction & Skin Toning
Regular price ……….$325
Tua Viso with RECHARGEABLE 9V battery  (110 V with a 2 prong USA plug)
NOW ONLY ……….$295
Tua Viso with DISPOSABLE 9V battery  (110 V with a 2 prong USA plug)
FREE USA Shipping
Worldwide shipping outside of the USA $39
CA Residents subject to local state tax
Tua Viso is the best product for:
I have been using the Tua Viso non-surgical facelift apparatus for over eight years. I was using it in conjunction with non surgical facelift treatments from a beautician who had a large machine for the treatments. My beautician friend left the city and I was eventually depending only on my hand held Tua Viso.The cost of a Tua Viso is equal to about two non-surgical facelift treatments from a beautician. For the same price, one can have years of toning facial muscles every day. With regular use, the overall effect takes years off one s face.
The most important thing (i think) is when one looks in the mirror. It is a matter of seeing yourself as years advance and not getting depressed about it because your face isn t giving in to gravity. No amount of makeup or chemical peels can firm the facial muscles, like this little machine does. When my old Tua Viso broke down, I was a little nervous waiting for my new one to arrive. I have used the Tua Viso on a plane and explained it to the stewardesses, who thought it was a great idea. I plan to use it for the rest of my life.
I had read about this product last year, then saw it featured on one of Rachael Ray's "human lab" episodes. I've now been using the Tua Viso 3 months, but saw results in a couple weeks. It can be a bit time consuming at first, but the results are so worth it. Now, I am able to maintain just a couple times per week with a quicker routine. I've noticed all over firmness and defined sculpting, less dark shadows in undereye area, as well as more radiance to the skin from the stimulation. Because of the brow lifting effects, I have not felt the need to return for botox treatments. There are other electronic facial exercisers out there for twice the price of the Tua Viso, but I cannot imagine a better delivery of results. I also like that I do not need to buy or use any conducting gels. The unique sponge and water delivery is very convenient and effective.
The Tua Viso facial exerciser is a wonderful invention, and not only does the product deliver what is advertised concerning beauty benefits, but it also has greatly helped me regarding some health issues due to TMD (Temporomandibular Disorder) and the pain of a concussion/whiplash injury which I sustained in November of 2008.
Several of my friends have asked the name of my beauty cream, as they have noticed that my facial features are quite taut and youthful since I have been using my Tua Viso. If they are good friends, (very, very, very good friends) I tell them about Tua Viso. They have to be "Tua worthy". 🙂
I also use the Tua Viso on my scalp, neck and shoulder area, plus where scalp muscles react to the stimuli to ease pain per the concussion/whiplash injury. This is in conjunction to physical therapy, and I bear witness that it helps a lot with the pain issue by helping to release muscle spasms. That is a blessing.
The stimuli also helps to keep my TMJ (temporomandibular joint) from locking, I firmly believe. I have calcium deposits in the area, can hear the cracking noise, and feel relief after a "session". I have been warned by my dentist not to eat certain hard foods, and that the joint can lock, etc., and I have noticed a positive difference in that dynamic since using the Tua Viso. Suffice-it-to-state that I will want to have a Tua Viso on hand for life, and am glad that your company sells the product, plus gives stellar customer service per the device and parts, such as the sponges.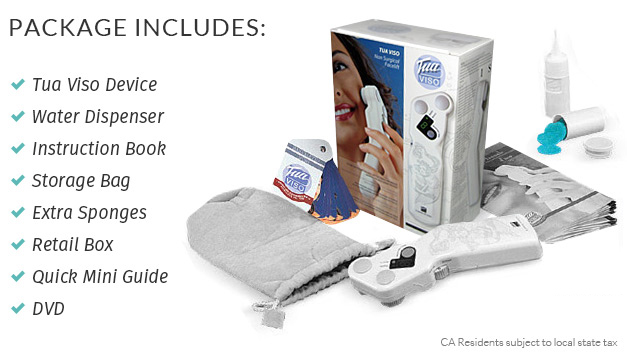 Tua Viso Face Firming Device for Wrinkle Reduction & Skin Toning